Power Up Your Shopify Order Notifications
Automate your Shopify store's order notifications with powerful rule based actions. Create notification rules based on customer country, SKU, order value, product tag, vendor name and more all within the Shopify admin. Get Started with our FREE 7 Day Trial.

Easy to Use, Powerful Order Notifications for Shopify
Smart Notifications is built for Shopify merchants who require control over their order notifications.
Reduce the overhead of manually filtering and passing orders to suppliers, vendors, staff, and customers with our easy to use rule creator, all from within the familiar Shopify admin.
Let your store benefit from advanced filtering, customisable email templates, batch notification sending, and order creation on other Shopify stores.
Try Smart Notifications – Free 7 Day Trial
Smart Notifications offers a free 7 day trial after which you'll be moved onto one of our simple pricing option starting from $19pcm. Our plan is not restricted and offers unlimited notifications, unlimited orders, and personal support.
Optimise Order Workflows
Streamline your store's operations by automatically sending your suppliers, vendors, staff, and customers the order information they need.
Powerful Automation
Create notification rules based on customer country, SKU, order value, product tag, vendor name and more all within the Shopify admin.
Multiple Notification Methods
Send specific orders or line items via email, CSV, and webhook. Tag customers and orders when notifications are sent.
Multiple Business Use Cases
Smart Notifications is limitlessly flexible. Our customers have created rules for hundreds of use cases including:
Sending product specific information (e.g. a handbook, usage instructions) to customers who buy a specific product
Delivering a daily CSV to a dropshipping partner
Preventing fraudulent orders by alerting staff of every order above a specified value
Notifying 3PL partners by email or webhook when a customer orders a product they fulfill
Scheduling a regular CSV delivery of all orders from customers in a given country to a distributor in that region
It's easy to create rules and organise your notifications in the familiar Shopify admin. Set the rules once and let Smart Notifications keep your customers, distributors and vendors in the loop.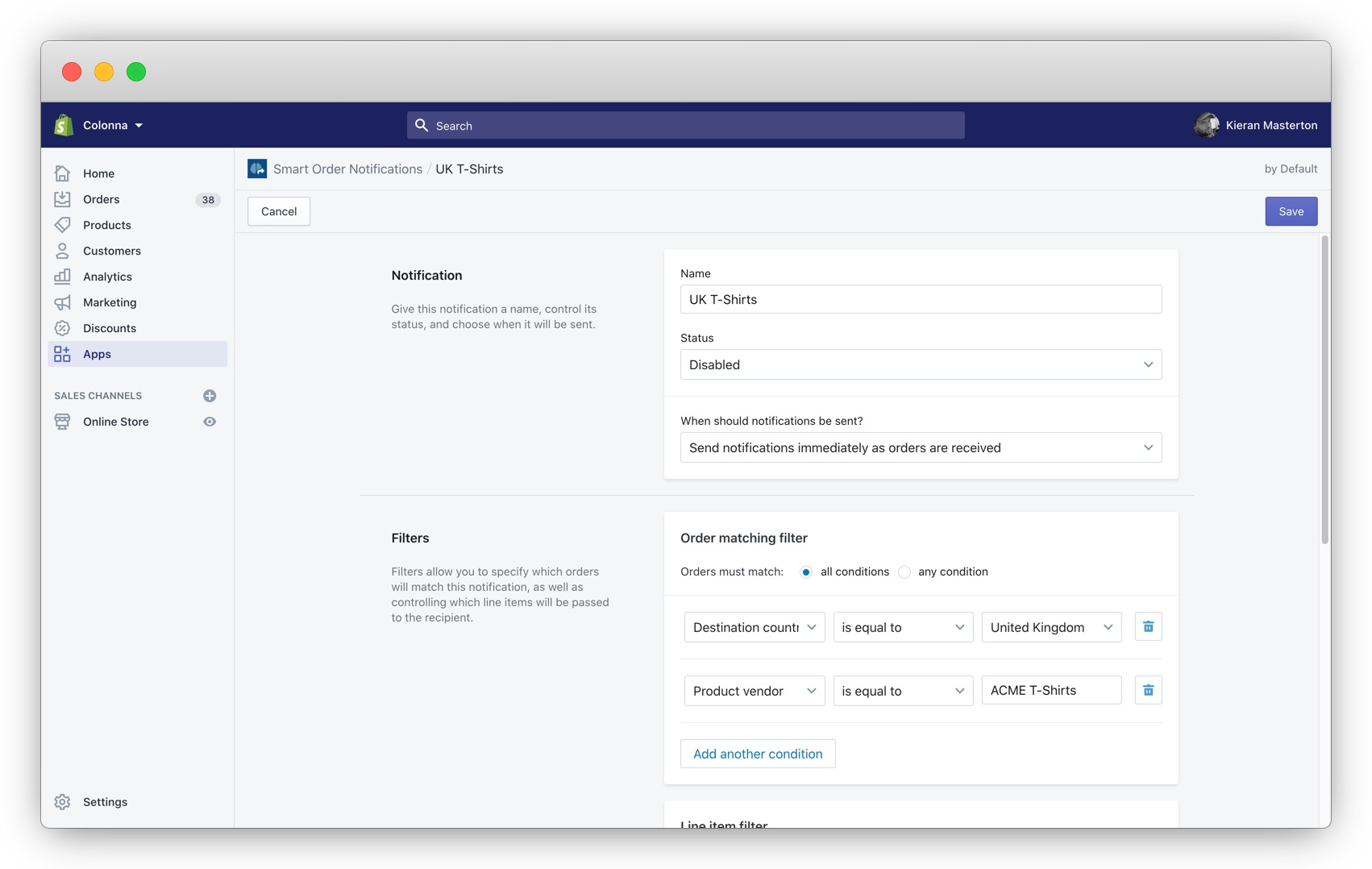 Powerful Notifications & Filtering
Smart Notifications allows you to create rules that specify which orders should trigger a notification and which line items from that order should be included in the notification.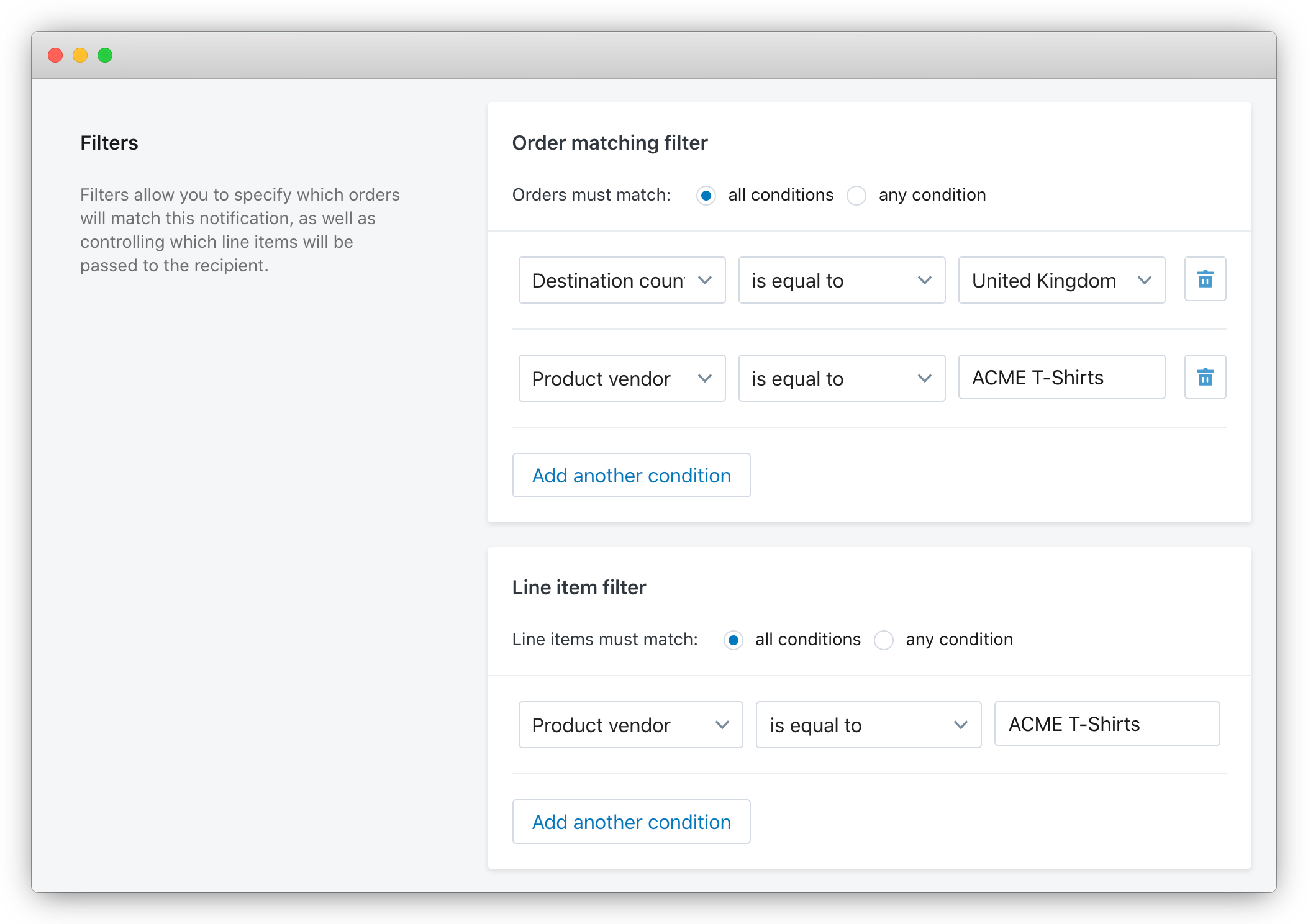 Rules can filter by product SKU, title, and vendor, as well as, destination country, order value, shipping method, order tag and many more.
Smart Notifications supports notifications by email, email with attachment, and webhook.
Email Notification
Our email templates support all of the features of the built-in Shopify email notification editor allowing you to create custom designs.
Attachments
Send a CSV or PDF file containing your order information as an email attachment. The format of these files is completely customisable per notification.
Webhook
Our powerful webhook feature makes it possible to integrate into multiple third-party systems used by your 3PL, dropshipping partner, franchisee or regional partner.
Easy Notification Scheduling
Notifications can be sent when a matching order is created, daily at a set time, or weekly at a set time. Each notification can have it's own schedule — simply pick the appropriate interval and time when creating or editing a notification.
Simple Pricing from $19 p/m
Whilst you need our Standard or Professional plans to access some of our features, all our plans include the following:
Create unlimited order notification rules
Trigger notifications based on order properties
Send unlimited email notifications per month
Send notifications immediately as orders are created or updated
Filter which line items are included in the notification
Get personal support from two Shopify veterans
We're Here to Help
Smart Notifications is owned and developed by Kieran Masterton, a UK-based, former Shopify employee with experience of working in the Shopify Partner, API and Plus teams. When you get in touch you'll get a personal reply.
If you would like to discuss how your business can benefit from Smart Notifications please feel free to get in touch via email at help@smartordernotifications.com.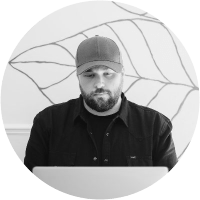 Thanks, Kieran